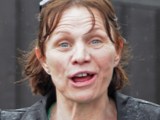 Rex Features
Jade Goody's mum Jackiey Budden has reportedly been selling teddy bears left by her daughter's grave at car boot sales.
According to the Sunday Mirror, Budden has been offering the memorial gifts for 50p each, along with toys belonging to her grandsons Bobby and ­Freddy.
She was apparently overheard saying at one sale: "These are from Jade's grave. We've made enough money now, let's go down the pub."
Budden allegedly told the paper: "They sold pretty quick. I don't think I have done much wrong, to be honest. People do these things."
Her spokesman added: "There were hundreds of bears and cuddly toys left outside Jade's house. When she was clearing out the house, Jackiey gave most of them to the local hospital.
"Others she sold. She says they were not from the grave and she says that she gave the money to charity."